Martindale Country Club opened for play in 1921. The front nine was designed and routed through the woods and dairy pasture by the Chisholm brothers, Alex and Fred, on land purchased in 1920 by the Martindale Holding Company. Fred Chisholm was Martindale's first golf course superintendent, while Alex was golf professional at Portland Country Club in the 1920's. The two brothers were formidable competitors in early New England professional golf events. The Maine Open Championship was held at Martindale in 1925 and was won by Frank Gilman of Augusta. Gilman's younger brother Harlan would become Martindale's head golf professional in 1945.
During the 1930's the colorful George Dunn served as professional. Great junior players such as Ed Abbott, Royce Abbott, Ray Lebel, Paige West and Walter Emerson dominated amateur golf at Martindale and throughout the state. It was during this era that Martindale was first called "The Mother of Champions." This legacy of top-flight amateur golf continued into the 1940's. Tom Lamey was Martindale's Golf Professional leading into the war years. Harlan Gilman began his long tenure at the brick house "in the dale" in 1945. Golf's popularity grew throughout the country in post-war America. Dr. Ray Lebel moved on to Portland to capture more championships. The great Ed Abbott and Fred Bendtsen stayed at Martindale and were besieged by young Turks, Bill Lever, Denny Blais, Joe Leigh, Norm Chase and eventual State Champion, Dr. Dan Shields. Along with Dan Shields, Martindale produced another fine player in Andy Bunker. Andy was a great club champion who lost his life in a tragic boating accident.
In 1945 the club was incorporated as Martindale Country Club, Inc. The fledgling corporation's beginning was marked by a one-time redemption of 1921 holding company stock. There was apparently some consternation among the few members who missed the meeting. It was in this era that the club sought a bank loan for some course improvements. When the bank inquired after collateral, an emphatic president, Fred Bendtsen, immediately put up his residence as collateral! In 1955, Jack Linnell held forth as Martindale's Caddy Master. Yes folks, there was a time when we had a lot of caddies and very few carts.
John "Blackjack" Turner, one of our notable golfers, was one of Jack's charges. Dick Craw, a good amateur golfer who lives in the Augusta area, was another along with Tom Benoit, a local pro and former member Will Benoit's son. The biggest deal for caddies at the time was to get to carry doubles for The Big Four, as they were known: Rad Mitchell, Mike Gentile, Sam Paiton and Bill Clifford Sr. They were the best tippers at the club and had exciting matches even though the quality of the golf may have been suspect.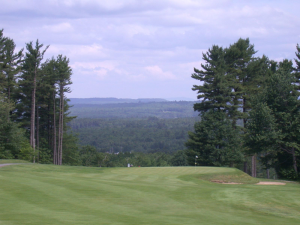 The late 1950's and early 1960's brought us Arnold Palmer and the Masters Tournament on television. At Martindale a new generation burst on the scene and it wasn't just the boys this time. Martha and Penny Page formed their championship careers under Harlan Gilman and spent many hours honing their games by the rock garden putting green. Martha would win six State Crowns and Penny three. Another state champion coached by Harlan was Arlene Gilman, Harlan's daughter, who was a two-time WMSGA Champion.
The young men of the late 1950's and 1960's took a back seat to no one in Maine. Todd Read won the State Amateur in 1964 and was defeated in the semi-finals of the New England Amateur at the Portland Country Club. Dr. Dan Shields won the Amateur in 1966. Ralph Noel won the Amateur Championship in 1968, 1980 and 1981. Martindale lost Mr. Gilman in 1967. He was a great professional and a friend to hundreds of golfers. Anyone who caddied at Martindale under Harlan Gilman could not help but develop love and respect for the game. The mid-1960's were marked by outstanding Club Championship duels between Ralph Noel and Bob Jordan, two of the state's best. The back nine project was completed. Philip Wogan designed a formidable nine holes along the little Androscoggin that bedevils golfers to this day. We are forever indebted to the members who worked to complete the new nine. A monument on #10 marks the accomplishment in its dedication to O.B. Britten. "Hit the Ball" is the anthem of Martindale's back nine.
Dick Harris began his twenty-year tenure in 1968. Martindale hosted the Men's State Amateur in 1970, won by future Assistant Pro John Mills. Martindale was the Amateur venue again in 1989 when the best players in the state struggled on fast greens and high winds. The great Mark Plummer of Augusta prevailed that summer. Bob Darling, Jr. was hot for the 1989 Amateur in his first full season as Head Pro. Bob had a distinguishing career at Maryland and continued to play top-rank professional golf in New England.
In 1992, Club Champion, David Brewster set a new course record of 63. Martindale's long awaited new clubhouse became a reality in 1993. It received rave reviews from golfers and guests throughout the state. In 1998 Martindale Country Club elected its first woman president Ms. Diane Heutz.
In 2007, Martindale hired Nick Glicos, of Windham, as their PGA Head Golf Professional. Nick grew up in Westbrook, learning to play golf at Gorham Country Club. As an accomplished amateur and now golf professional, he follows a great line of golf professionals at Martindale. In the fall of 2009, Martindale fell under difficult financial times, as did many golf clubs around the country. With a unanimous vote, the membership approved the sale of the great club to long-time member and local businessman, Jim Day and Nick Glicos, Head Golf Professional. Under new ownership, Martindale hired one of the states top superintendents, Scott Cybulski, and has brought renewed enthusiasm to Martindale. In late 2020, Nick Glicos purchased full ownership of Martindale.  Nick is committed to operating the club in the rich history and tradition that Martindale members have always enjoyed.